I'm Me Tour
Why Does JJ's I'm Me Tour Exist?
Watch & See
Want to know how JJ's I'm Me Tour got started? Check out this short film produced by Folklore Films explaining what inspired JJ to create the tour and what takes place during each tour date!
---
What Are People Saying?
---
What's It About?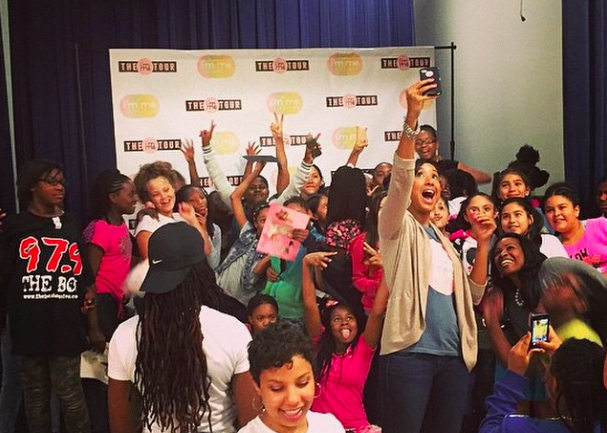 An empowering experience for girls! JJ's I'm Me Tour is designed to give young ladies the tools they need to challenge themselves in all areas of their lives! Sessions on Health/Fitness, Beauty/Style, Goal Setting, Etiquette and more!

The last visit is JJ's I'm Me Tour WRAP UP! – JJ gives final remarks including a empowering message about how important these girls are to the world and how it is ok to be GREAT!

This program does not stop here. The students are required to complete one community service activity with JJ's I'm Me Foundation. At the end of the year, we bring all of the students together for a big celebration and recognition.
The I'm Me Tour is a 7 week program for middle schools and high schools (50 girls per school) Each session offers the girls an opportunity to be exposed to a different high level careers as well as a sessions on the following topics:
I'm Beautiful
Basic hygiene, skin care, self-esteem builders, natural hair care and lifestyle apparel
---
In this class, girls have a conversation about self-image. We teach the girls that beauty that comes from within. Attendees receive tips on skincare and personal hygiene! Plus, hands-on demonstrations!
I'm Living
The Good Life
Finding your passion, setting goals, vision boards
---
During this class, girls are encouraged to think about their goals and passions and how they can turn into careers! The girls create vision boards to take home so they can focus on their dreams and goal daily
I'm Fit and Fabulous
Healthy eating, creating personal fitness goals, setting a routine for a healthy lifestyle
---
Our certified Personal Trainer gives the girls the scoop on better eating choices and the importance of nutrition. She provides the girls with an interactive fitness demonstration and samples of healthy eating.
I'm Classy
An interactive session on proper etiquette, body language, attitude, confidence, social networking and more
---
This is our very special etiquette class. Attendees are given tips on first impressions and the "do's and don'ts" of Social Media. They learn about acceptable behavior in the classroom, conflict resolution and more!
Other classes include, Healthy Cooking, Robotics, Finance literary, Political literacy and Career Development
During the wrap up of the tour, JJ gives final remarks including a empowering message about how important these ladies are to the world and how it is ok to be GREAT!